Art D'Elke presents...
Student Show at "John Fielder's Colorado" Gallery - December 7, 2012 through January 26, 2013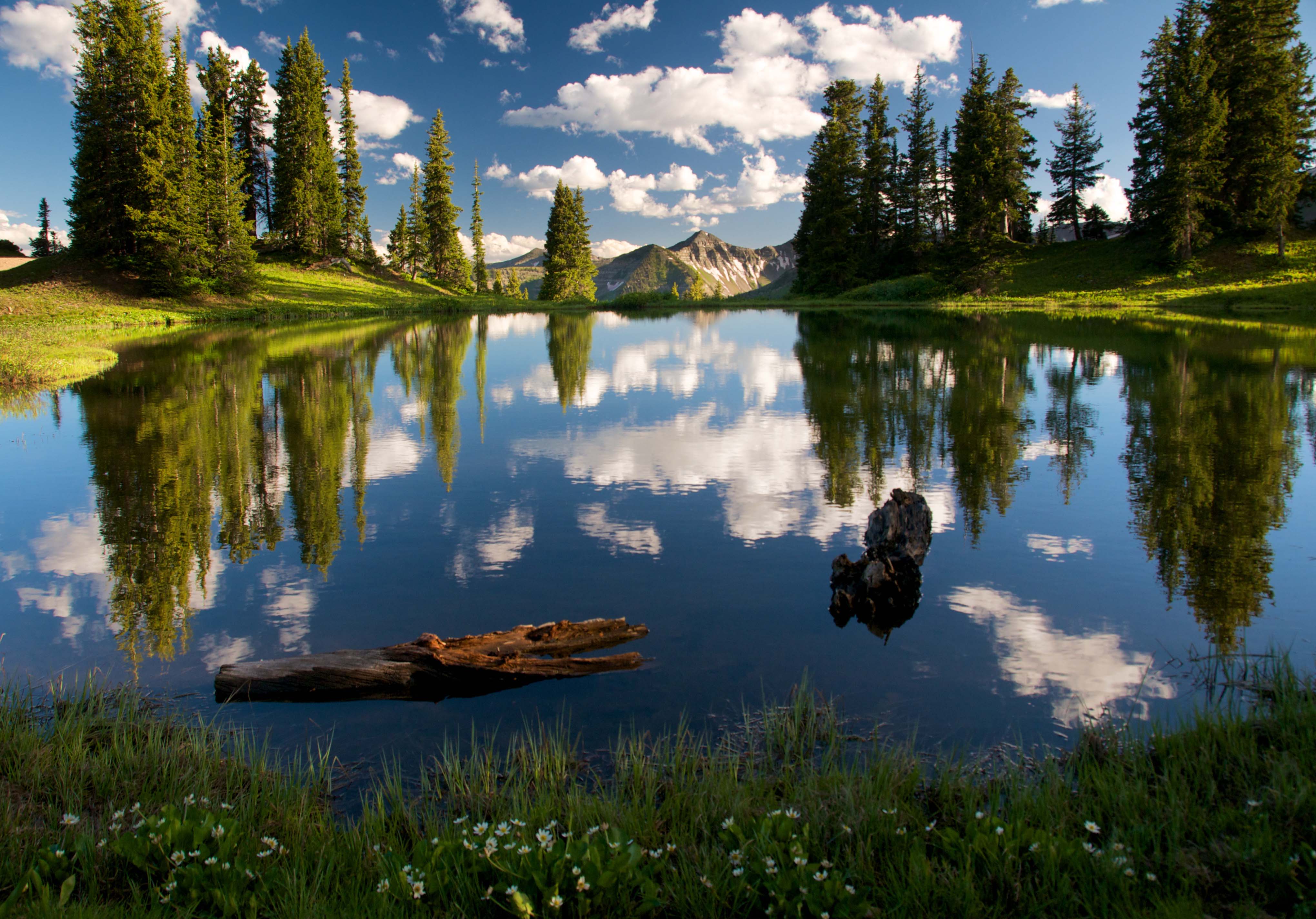 Paradise Reflection by Glenn Sackett
Professional and amateur landscape photographers who have been participants in a John Fielder Photography Workshop in scenic locations ranging from Colorado to Hawaii over the past 12 years are featured in a Workshop Students Exhibition at Fielder's gallery located at 833 Santa Fe Drive in Denver's Art District on Santa Fe. The show opens on First Friday, December 7.
Eighteen photographers were selected from a call for entry that was juried by the staff of Fielder's gallery, all of whom are photographers themselves. Featured in the show which runs from December 7, 2012 through January 26, 2013, are Evan Anderman, Jeanette Azar, Doyle Brewer, Mary Carley, Bo Cheatham, Chris Cillian, Johanna Clifford, Anne Cook, Jim Donlon, Bryan Kean, Cari Linden, Deb Olson, Robin Riddle, Brett Rodewald, Glenn Sackett, Frank Sueberling, Keith Wallin and Ron West. Each of the selected images have been matted and framed at the gallery and all are for sale with 100% of the proceeds going to the photographers.
An Artists Reception hosted by Fielder is scheduled for Saturday, January 19, from 2 to 5 p.m., when gallery guests can meet the photographers and find out what it's like to take a workshop with Fielder. They may also vote for "Best in Show" in a People's Choice contest which continues through the run of the exhibition.
The schedule of 2013 workshops where students can learn -- directly from Fielder -- how to take beautiful landscape photographs begins with winter photography in Steamboat Springs in March, and continues with whitewater rafting and camping on the Gunnison River in May, spring scenery in Summit County in June, wildflowers in Crested Butte in July and wraps up with fall colors in Telluride in October. An April workshop in Costa Rica is on the drawing board.
The Bohemian Spirit - November 14 through December 31, 2012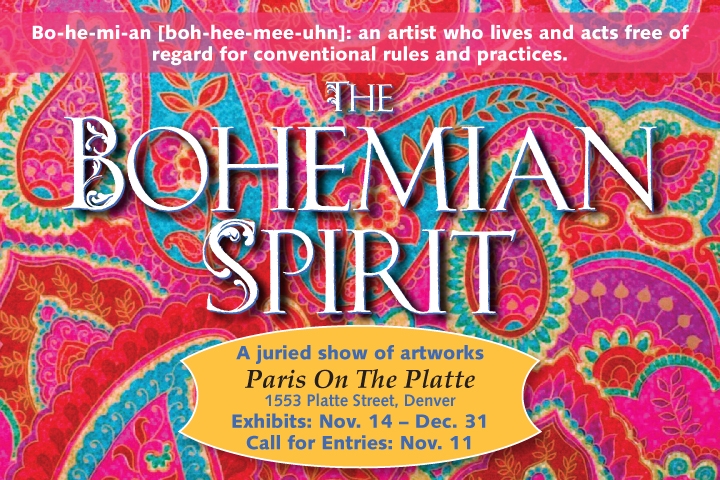 The Bohemian Spirit is Alive at Paris on the Platte by Art D'Elke
Now showing through December 31, "The Bohemian Spirit," a juried exhibition of 2-dimensional artwork celebrates a lifestyle free of convention, rules and regulations. The exhibition venue is Paris on the Platte, 1553 Platte Street, a LoDo coffee house, bar and music scene that, for 26 years, has been host to free thinkers and avant garde artists who find a sense of connection there. Unleashing their bohemian essences for this exhibition are artists Leslie Aguillard, Courtney Cotton, Catherine M. Dutcher, Victoria Eubanks, Lynn Feiger, Amy Gordon, Matt Hardwick, Christy Lynne Harris, Gina Harris, Leah Hendricks, Paula Hudson, Hugh Keating, Gwen Marie, Elke McGuire, Catherine Pistone, Patty Ramey, Vija Rogozina, Elizabeth Rouland, Marla Sullivan and Phyllis Utter. Two artists' receptions are scheduled during the run of the show: Friday, November 16, from 5 to 7 p.m. and Thursday, December 13, also from 5 to 7 p.m.
Colorful New Works by Milt Denny - October 12 and 13, 2012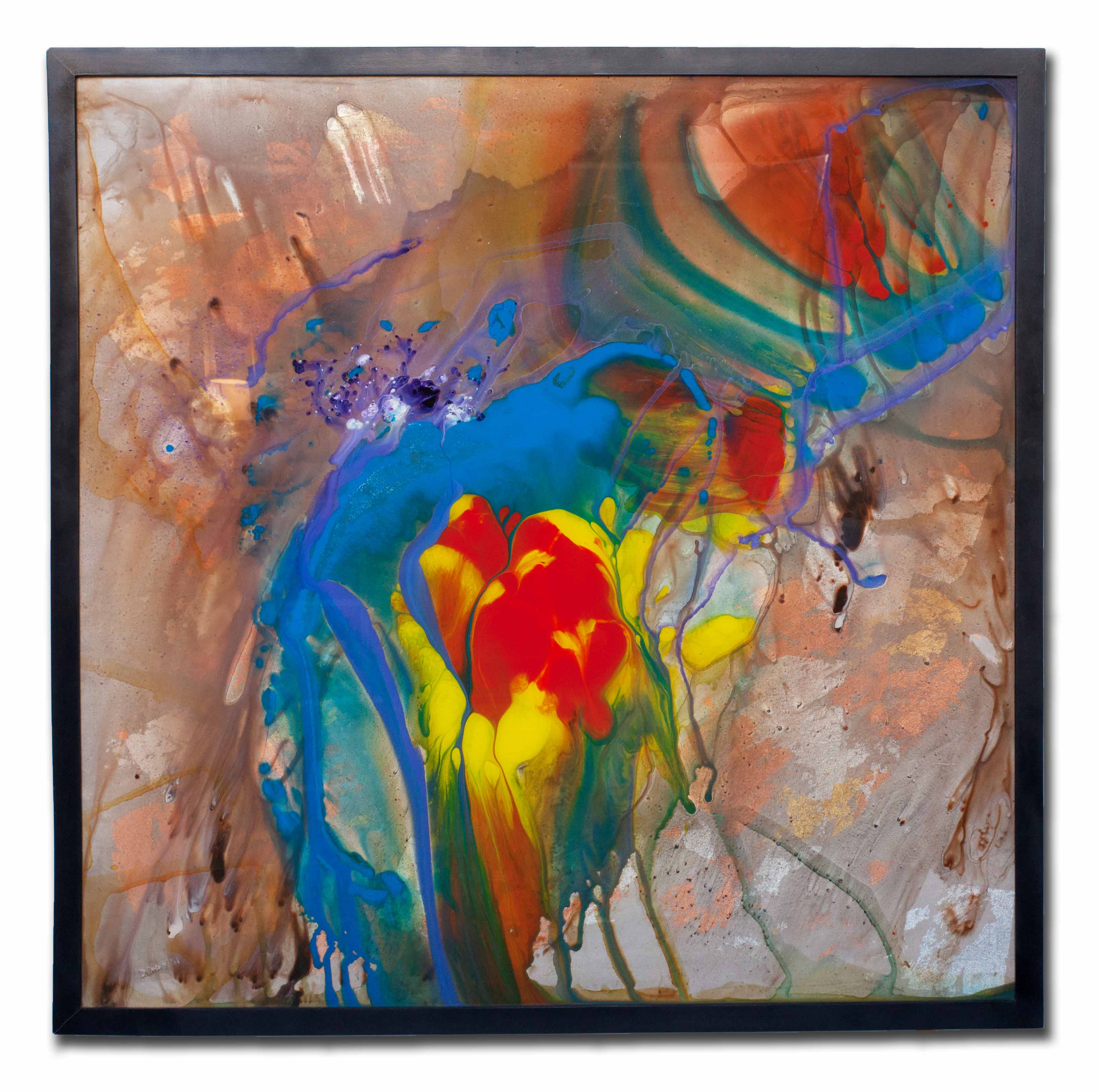 Apres by Milt Denny
Painter Milt Denny unveils colorful new works in celebration of the grand opening of his Wazee Union studio in the RiNo Art District at an open house on Friday and Saturday, October 12 and 13. Milt's new paint-behind-acrylic works are featured at studio pricing during a preview on Friday from 4 to 6 pm and again on Saturday during RiNo's Second Saturday festivities from 3 to 11 pm, when there will be a drawing to win one of Milt's paintings. On both days, Milt will demo his paint-behind-acrylic technique.
The offbeat Wazee Union, located at 3501 Wazee, just off Brighton Boulevard, is one of RiNo's funkiest creative communities. The building is a former manufacturing plant that, in its various incarnations, has been a warehouse, a glass bottle manufacturing facility and, during wartime, a staging place to move supplies onto railroad cars. Redeveloped by the Space Creators, Wazee Union houses 61 studios and is home to more than 100 people working in the creative arts.
People Connect at Paris on the Platte - October 5 through November 10, 2012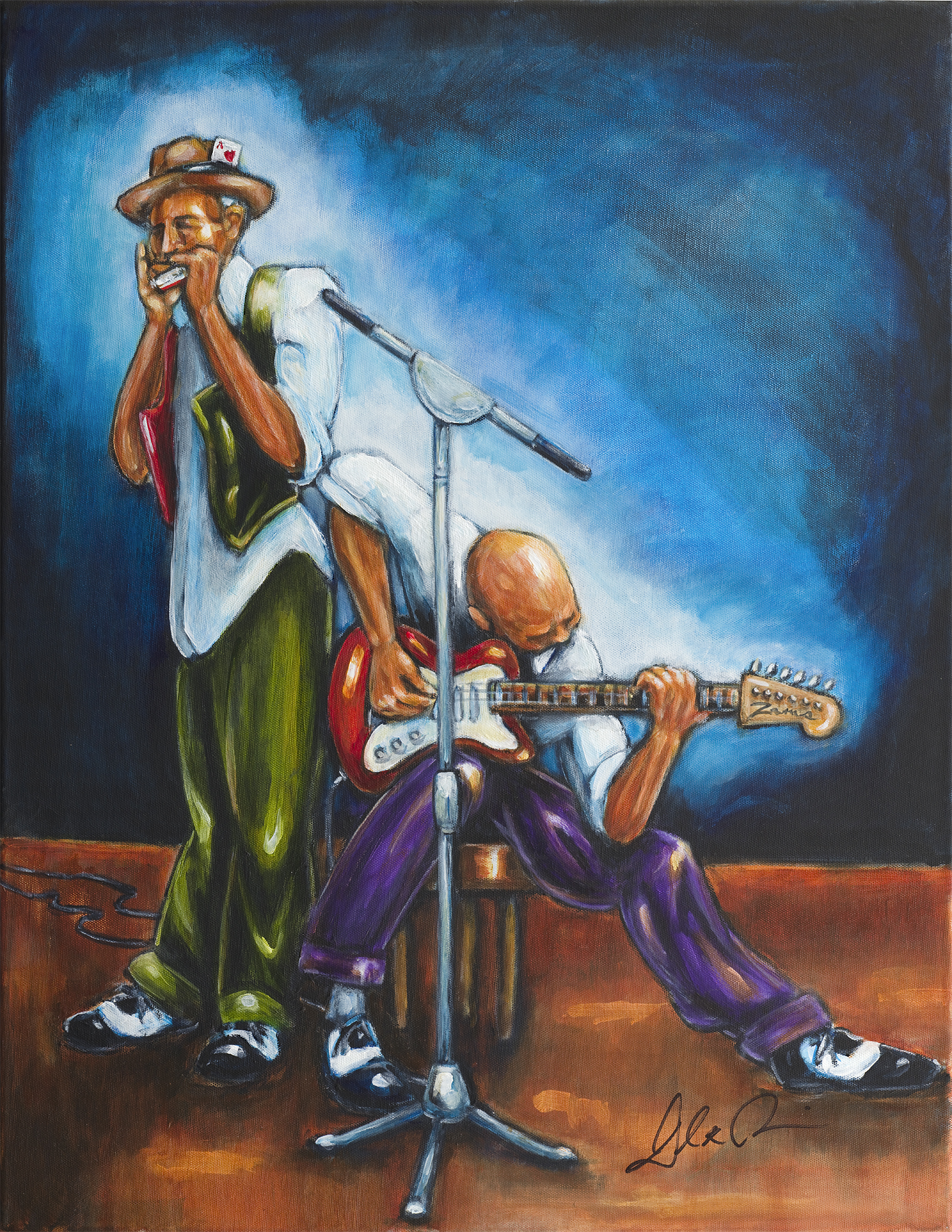 Blue Light Special by Daryl Price
Creative people have been connecting with one another at Paris on the Platte throughout its 26 year reign as Denver's 'best old coffeehouse,' a tradition that has inspired a group show featuring five Colorado artists who celebrate the connections. Strategically placed on the walls of the LoDo institution's café, bar and live music venue, an exhibition of two- and three-dimensional works ranges from the lighthearted to the intense. They reflect the young artists, musicians, poets and creative thinkers who, since 1986, have been sharing fevered dreams and discussing ideas long into the night, upending bottomless cups of coffee at a joint that's open until 1 a.m. most nights and 2 a.m. on Saturdays and Sundays. Making their connection at Paris on the Platte for this exhibition are mask maker Phil Eastwood, mosaic artist Krystie Rose Millich and painters Elke McGuire, Daryl Price and Marla Sullivan. "People Connect at Paris on the Platte" runs from October 5 through November 10, with an opening reception on Friday October 5, from 5 to 7 p.m., at 1553 Platte Street in Denver.
Project Exposure 2012: Photographs by Ben Rasmussen for Friendship Bridge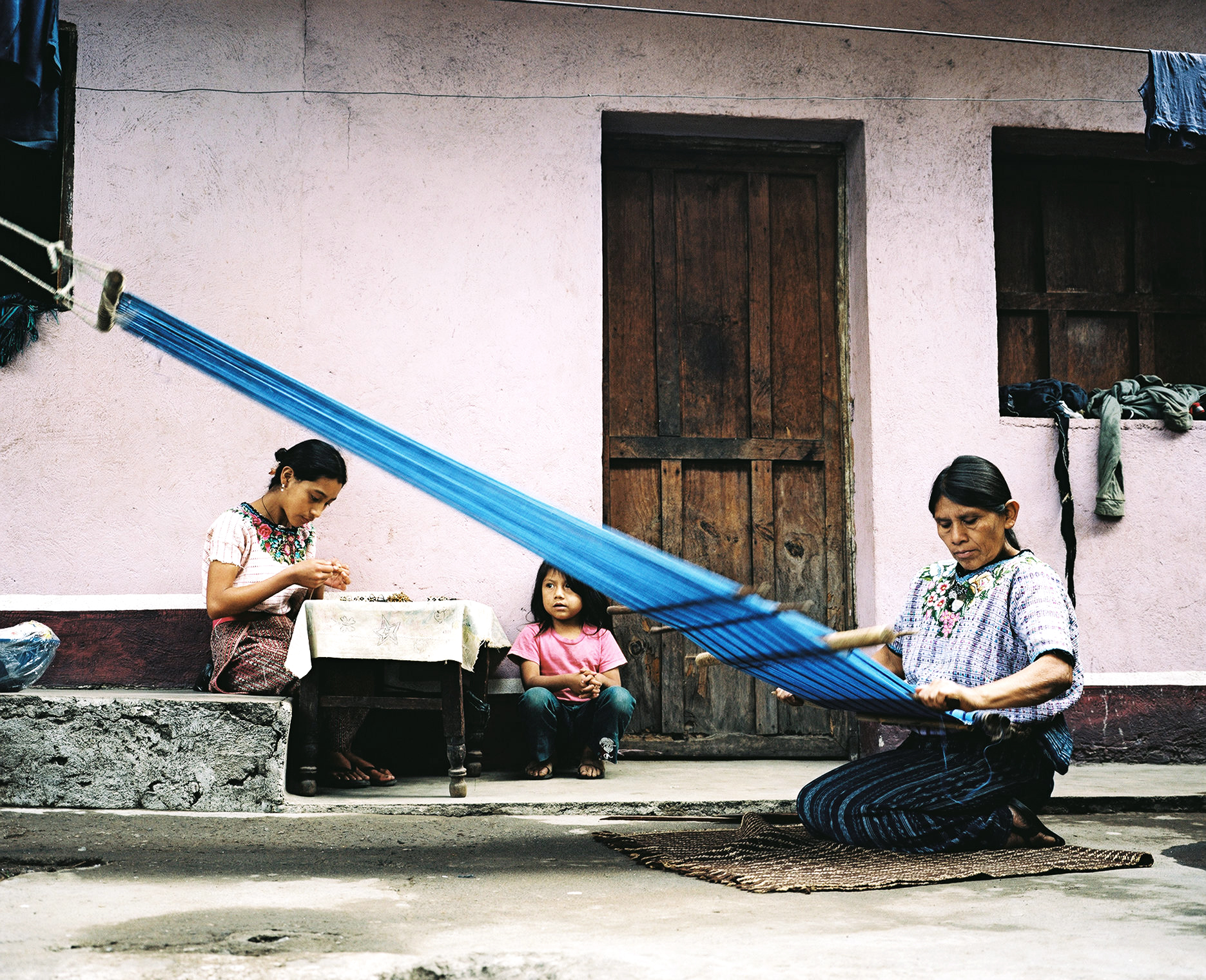 Woman Weaving by Ben Rasmussen
Efforts to empower women in Guatemala conducted by a Denver-based nonprofit are the subject of a photography exhibition entitled "Exposure 2012: Friendship Bridge in Guatemala" at Vertigo Art Space in Denver's Art District on Santa Fe, running September 14 through 28. The images are the work of award-winning freelance photographer Ben Rasmussen, taken in March 2012, through a program funded by Project Exposure and designed to bring attention to the work of Friendship Bridge. The photographs in the exhibition were selected from more than 500 images taken by Rasmussen during a one-week period as he traveled through the highlands and Lake Atitlan regions of Guatemala, chronicling the work of Friendship Bridge and featuring the women who benefit from microfinance and education programs. Over the course of the week, Rasmussen met and photographed the women and their businesses with an eye toward showing the resilience of the women at work, the harsh conditions of life, and solutions to poverty in his compelling images set against a background of the Lake Atitlan countryside
Pop-UP Gallery 2 - July 5-27, 2012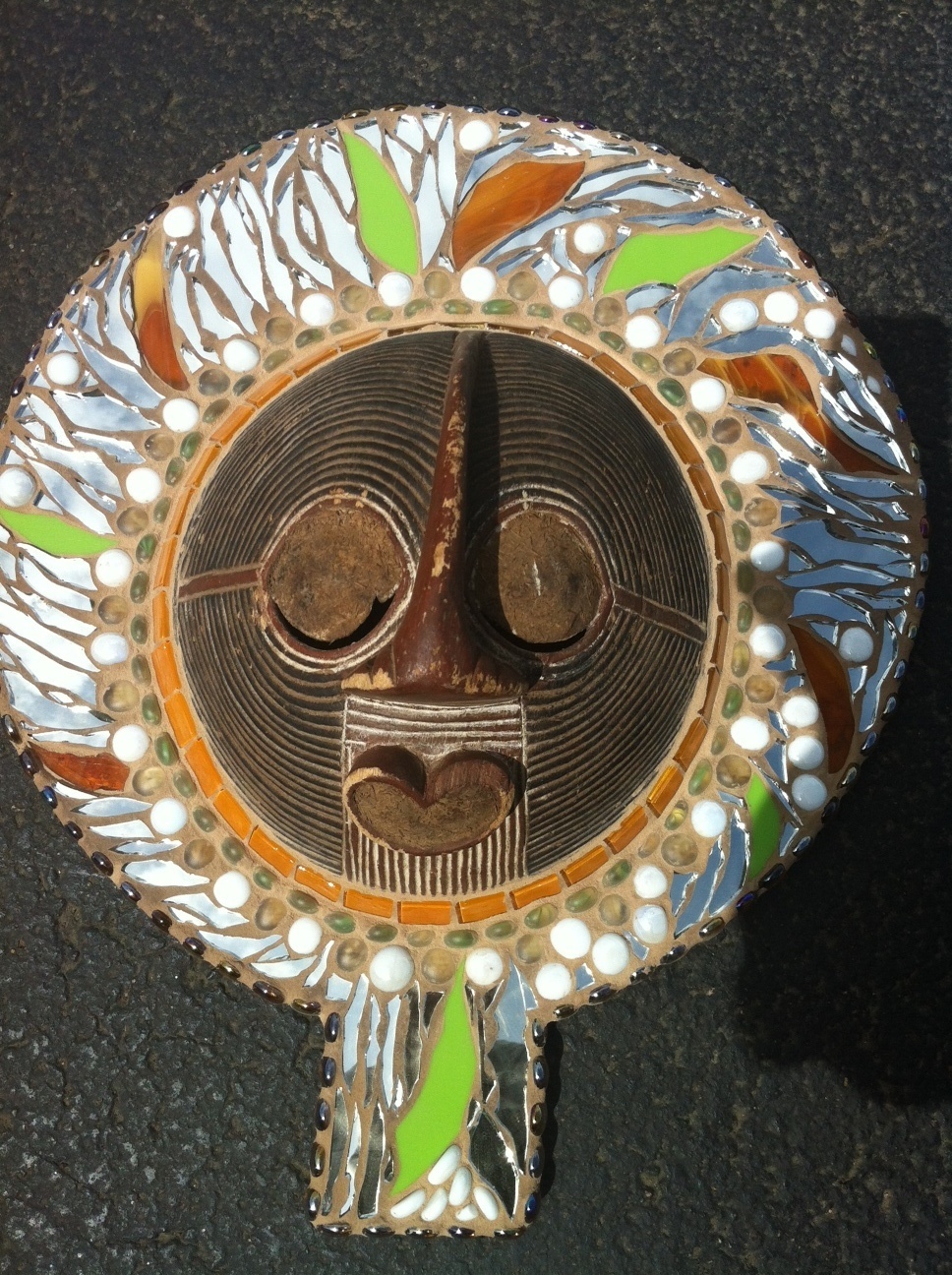 Sweet Lips by Ann Raabe
Jabula Mirror Masks filled with images of her African childhood and decorated with mirrors, glass, beads and stones are the creations of Boulder artist Ann Raabe. Each of her one-of-a-kind masks -- more like sculptures, really -- portrays a singular personality, sometimes primitive and modern, abstract and tangible, or dark and light. The exhibition's senior artist, Tadashi Hayakawa, presents gentle yet tumultuous abstract images in the paintings created in his Parker studio during a time when he realized the approach of the twilight of his life. They are part of his five-year plan to paint under the theme of "Dreaming of Life in the Heaven." Colors, lines and shapes appear to change with the light, jumping out of the canvas to tease the viewer's eye. Joining Raabe and Hayakawa in the exhibition are Denver artists Patty Ramey whose traditional and representational paintings of bright sunflowers and full-bloomed hydrangeas bring good cheer and Young Hee Back who presents abstract works that flourish with dreamy colors and graceful movement.
Plein Air Workshop in Colorado's Vail Valley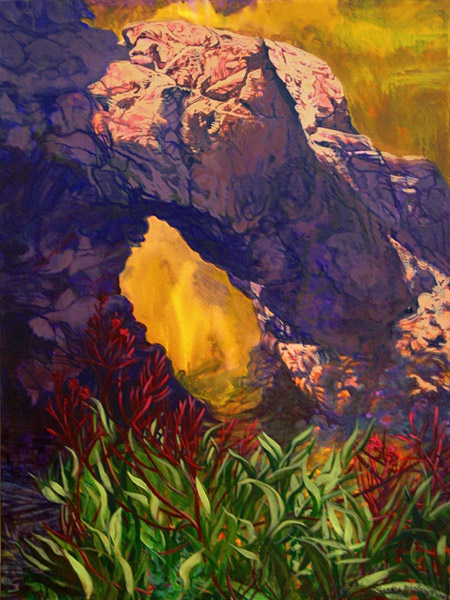 Near Minturn by Sandra Kaplan
Colorado's scenic Vail Valley is the setting this summer for a Plein Air Workshop with artist/teacher Sandra Kaplan. Scheduled for Wednesday through Sunday, July 25-29, the workshop takes place at locations as picturesque as the top of Vail Mountain, Betty Ford Alpine Gardens, the Minturn Farmer's Market and a private patio on the Eagle River. In the town of Minturn, the art-filled home and gardens of artist Lynn Feiger are workshop headquarters.
A curated exhibition of artwork created during the workshop opens on Labor Day, September 3, and continues through the end of the month. Sponsored by 104.7 The MILE, the post-workshop exhibition is hosted by the radio station in the lobby of its Minturn studios.
Registration is limited to 12 participants and the fee is $749 per person, which includes one-on-one instruction and daily critique, an escorted Vail Valley gallery artwalk, tickets and entry fees for all activities, a welcome reception and most meals.
Pop-UP Gallery ONE – May 8-29, 2012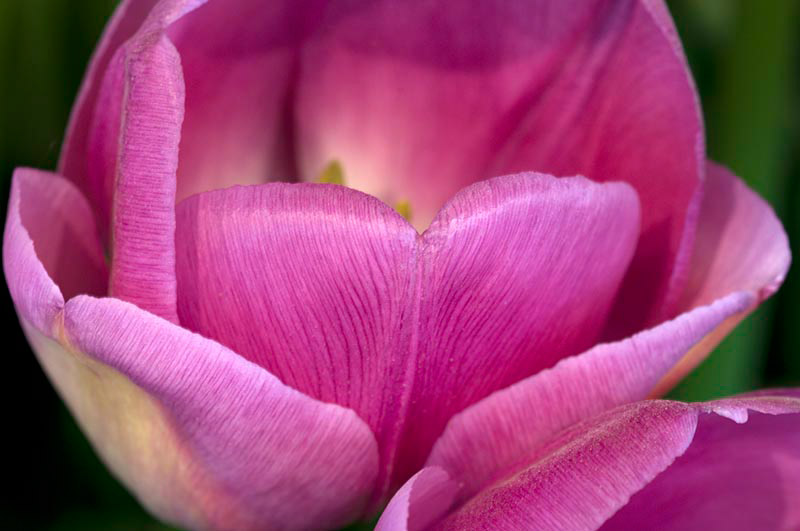 Skagit Valley Tulips by Dean Allman
The elegant Madden Museum of Art at Palazzo Verdi in Greenwood Village is the venue for Pop-UP Gallery ONE, a multi-media exhibition featuring the works of photographer Dean Allman and painters Stefan Geissbuhler, Toby Meyer and Z. page, opening on May 8 and continuing through May 29.
Two Friday afternoon artists' receptions are scheduled during the run of the exhibition, one on May 11 and the second on May 25, both from 5 to 7 p.m. The Madden Museum is located at 6363 S. Fiddler's Green Circle and its regular hours are Monday through Friday from 9 to 5.
FLOW 2012: Sandra Kaplan Selects – May 2-29, 2012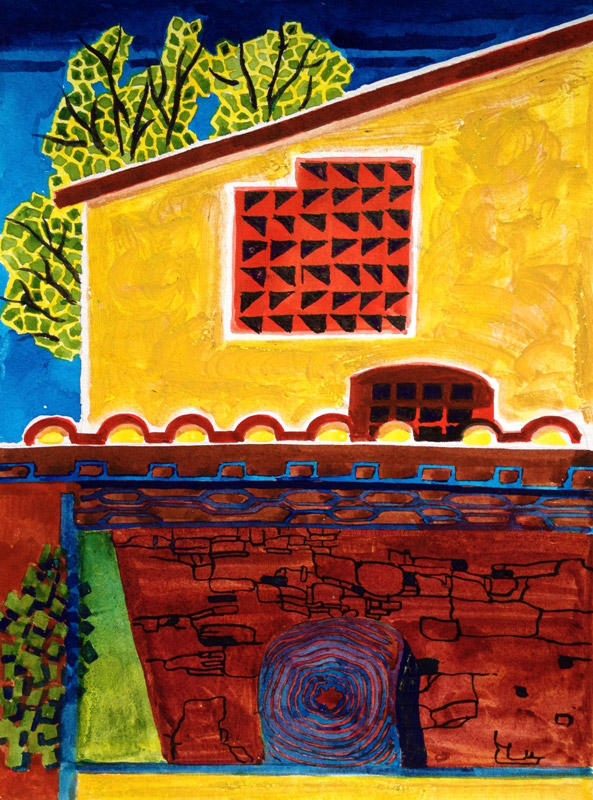 Tuscany by Bill Kastan
Denver artist and teacher Sandra Kaplan curates a watercolor exhibition fearturing her work and that of seven artists who have studied with her including Priscilla Garrett, Bill Kastan, Nancy Kembel, Gwen Marie, Suzanne Maxwell, Phyllis Utter and Paul Valdez. The show opens on May 2 and runs through May 29 at Studio 12 Gallery, 209 Kalamath Street, #12, Denver, with an opening reception on First Friday, May 4, from 5 to 9 p.m. Also scheduled is an Artists Tea Reception on Saturday, May 12, from 2 to 4 p.m.
Renewal: The Art of Spring – March 26-April 3, 2012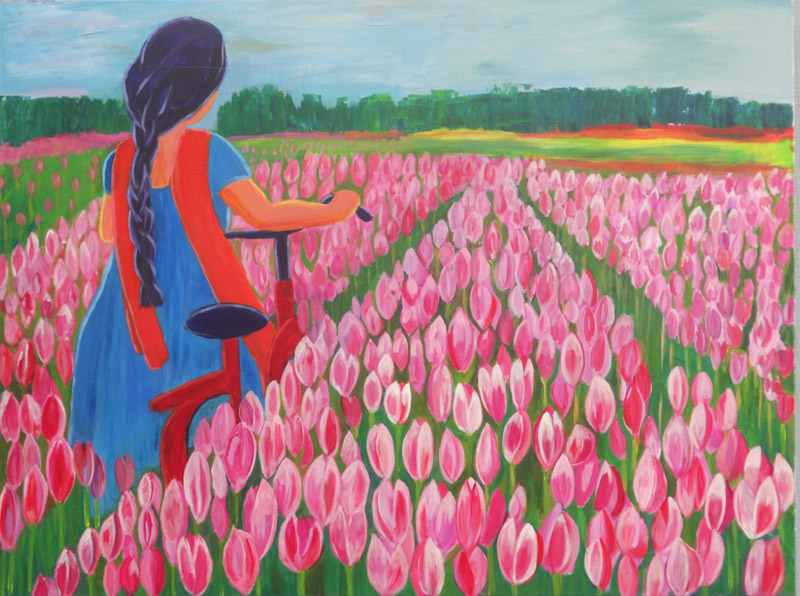 Lisse by Elke McGuire
Artists are invited to submit works in celebration of spring for a juried exhibition called "Renewal: The Art of Spring." The selected works will be on display for an eight-day show at the Niza Knoll Gallery, 915 Santa Fe Drive, Denver, during special gallery hours of 11 a.m. to 5 p.m. from March 26 through April 3 (closed April 1). An artist's reception will be held from 2 to 4 p.m. on Saturday, March 31. All artwork will be for sale.
Jury members Niza Knoll and John Passaro will select the work to be exhibited from the entirety of entries submitted. Artwork drop-off day for jury selection is Sunday, March 25, from 10 a.m. to noon, and work not accepted into the show must be picked up between 1 and 2 p.m. on the same day. The fee is $10 per entry with a maximum of four entries.